Welcome to SCImages
Well it's time to retire and I've decided to curtail my photograph image restoration business. I will do special jobs from time to time, but for the most part, I am just going to enjoy working on things, including this website, just for the pleasure of it. Many thanks to those who employed me over the years, to restore their cherished objects and heirlooms ... it was a great privilege to work on them! Vintage photographs that I come across increasingly impress me!

Click on the image to get a magnified view of this interesting modern photograph of a ballerina by Chelsea Morgan Humphreys.
In an age of digital photography and videography, it is amazing just how many great, enticing, unusual, erotic and exotic photographs exist from yesteryear. I have decided to explore this more thoroughly and I am going to include many of these vintage pictures in the headliner and blog articles of this website. Scanned from the internet and else ware, these are relevant to the golden age of film photography from the 1880's to the 1990's, including ancient autos, aeroplanes, advertisements, family portraits, street life, nude female models and pinups, from that era as well as more recent times.
Glamour Girl Gone Superman

!

Posted on Oct-25-2017 by Admin |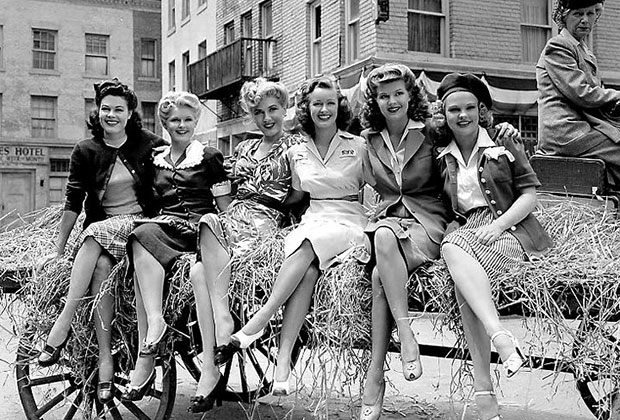 Click on the photo to magnify the image
The photo above is of several aspiring actresses posing happily together on set, from the early 1940's era. Centre-right, in the white blouse, is Noel Neill, more famously known as Lois Lane from the Superman films and TV series of the 1950's. Noel Darleen Neill was born November 25, 1920, in Minneapolis, Minnesota, the daughter of journalist David Holland Neill and stage dancer LaVere Gorsboth. When she was 4 years old, her parents enrolled her at "a school for aspiring performers." During her teen years, Neill "danced, sang and even played the banjo at county fairs throughout the mid-west. In her teens, Neill was a popular photographic model and while Betty Grable's pin-up was number one among GIs during World War II, Neill's was ranked number two!
In 1945, producer Sam Katzman gave Neill the recurring role of Betty Rogers, an aggressive reporter for a high-school newspaper, in his series of "Teen Agers" musical comedies. When Katzman was casting his Superman serial for Columbia Pictures, he remembered Noel Neill's news-hawk portrayals and signed her to play Lois Lane. She played the role in the film serials Superman (1948) and Atom Man vs. Superman (1950) and in the Adventures of Superman TV series from 1952 until it's ending in 1958. She continued in her acting career in Superman related films, specials and events for another four decades and played Gertrude Vanderworth (the dying elderly wife of Lex Luthor) in the 2006 film Superman Returns. Noel Neill passed way in Tucson, Arizona following an extended illness on July 3, 2016, at age 95.
(Excerpted from https://en.wikipedia.org/wiki/Noel_Neill)
Balloon Innovator

!

Posted on Oct-11-2017 by Admin |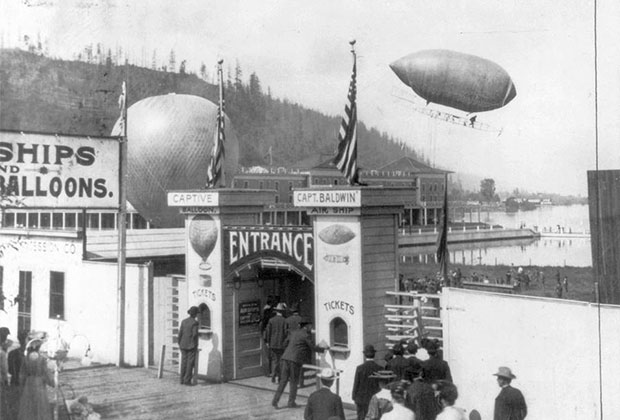 Click on the photo to magnify the image
This vintage photograph depicts pioneering balloonist Thomas Scott Baldwin's airship returning from a flight over the City of Portland, Oregon, during the Lewis and Clark Centennial Exposition in 1905. Baldwin (June 30, 1854 – May 17, 1923) was a pioneer balloonist and U.S. Army major during World War I. Previously he had worked as a brakeman on the Illinois railroad, then joined a circus working as an acrobat and in 1875, he started an act combining a trapeze and a hot air balloon. On January 30, 1885 he made one of the earliest recorded parachute jumps from a balloon.
Baldwin proceeded to develop manned balloons, to be powered and under control. In 1900, he created a small pedal-motorized powered airship, but it never served as anything more than a curiosity. In 1904 he built an aerodynamic cigar-shaped, hydrogen gas filled, balloon, the dirigible "California Arrow", which incorporated a 7-HP Hercules motorcycle engine manufactured by Glenn H. Curtiss. In August 1908, after several test flights at Fort Myer, Virginia, the Army Signal Corps paid Baldwin US$10,000 for a dirigible that could be used for sustained and controlled navigation. He went on, in subsequent years to develop airplanes, but when the United States entered World War I, Baldwin volunteered his services to the United States Army and was commissioned as a captain in the Aviation Section, of the U. S. Signal Corps and appointed Chief of Army Balloon Inspection and Production.
After the war Baldwin joined the Goodyear Tire and Rubber Company in Akron, Ohio, as a designer and manufacturer of their airships. He died on May 17, 1923, in Buffalo, New York, at the age of 68 and was interred at Arlington National Cemetery in Arlington, Virginia, with full military honors.
Still a Mystery!
Posted on Sep-27-2017 by Admin |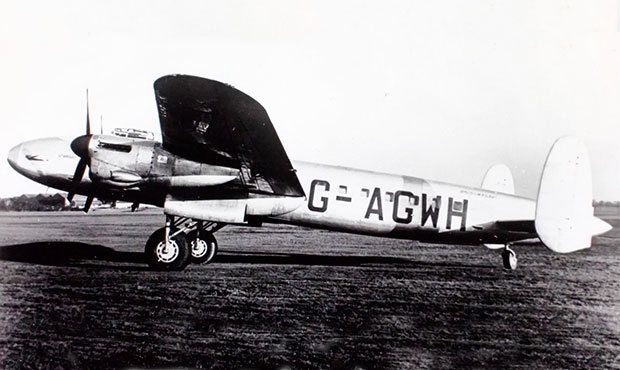 Click on the photo to magnify the image
Star Dust (G-AGWH) was a British South American Airways (BSAA) Avro Lancastrian airliner which crashed in the Argentine Andes just over 70 years ago, on 2 August 1947, during a flight from Buenos Aires to Santiago, Chile. She carried six passengers and a crew of five on that final flight. The captain, Reginald Cook DSO, DFC, was an experienced Royal Air Force pilot with combat experience during World War II, as were his first officer, Norman Hilton Cook, and second officer, Donald Checklin. The radio operator, Dennis Harmer, also had a record of wartime, as well as civilian, service and Iris Evans, the flight attendant (or "Stargirl"), had previously served in the Women's Royal Naval Service (WRENS).
A comprehensive search over a wide area, including what is now known to have been the crash site, was unsuccessful and the fate of the aircraft and occupants remained unknown for over 50 years. An investigation in 2000 after wreckage of G-AGWH had been found determined that the crash was caused by weather-related factors, but until then speculation had included theories of international intrigue, intercorporate sabotage and even abduction by aliens!
Perhaps the most controversial aspect of the crash was the last Morse code message sent by Star Dust being "ETA SANTIAGO 17.45 HRS STENDEC". The Chilean Air Force radio operator at the Santiago airport described this transmission as coming in "loud and clear" but very fast; and as he did not recognise the last word, he requested clarification and heard "STENDEC" repeated twice in succession before contact with the aircraft was lost. This word has not been definitively explained and has given rise to much speculation, but with the possible exception of some misunderstanding based on Morse code, none of these proposed solutions seem credible.
Nude Beauty Comes of Age

!

Posted on Sep-13-2017 by Admin |
Click on the photo to magnify the image
This coloured daguerreotype by Félix-Jacques Moulin, circa 1851-1854, depicts one the first nude studies ever taken in the new age of photography! Before 1839, depictions of nudity and erotica generally consisted of paintings, drawings and engravings, but in that year, Louis Daguerre presented the first practical process of photography to the French Academy of Sciences. Unlike earlier photograph methods, his daguerreotypes had stunning quality and did not fade with time.
The daguerreotypes were not without drawbacks, however. The main difficulty was that they could only be reproduced by photographing the original picture since each image was an original and the all-metal process does not use negatives. In addition, the earliest daguerreotypes had exposure times ranging from three to fifteen minutes, making them somewhat impractical for portraiture. The poses that the models struck had to be held very still for a long time as this young beauty must have found out!