Welcome to SCImages
Vintage photographs that I come across increasingly impress me! In an age of digital photography and videography, it is amazing just how many great, enticing, unusual, erotic and exotic photographs exist from yesteryear. I have decided to explore this more thoroughly and I am going to include many of these vintage pictures in the blog articles of this website.

Click on the image to get a magnified view of this humourous photo from the 1960's!
Scanned from the internet and else ware, these are relevant to the golden age of film photography from the 1880's to the 1990's, including ancient autos, aeroplanes, advertisements, family portraits, street life, nude female models and pinups, from that era as well as more recent times.
Sex, Drugs without the Rock n Roll

!

Posted on June-29-2018 by Admin |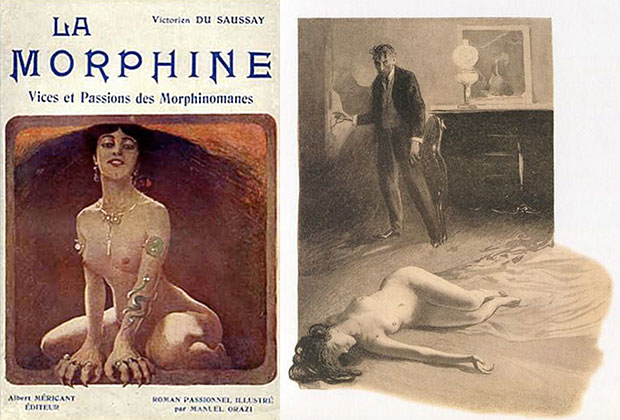 Click on the photo to magnify the image
The above photos are of the book cover of La Morphine. Vices et passions des morphinomanes by Victorien du Saussay, and one of it's illustrations designed by Manuel Orazi. The book includes 22 illustrations by the same artist.
La Morphine, Vices et passions des morphinomanes was published in 1906 by Albert Mericant, and is described by Barbara Hodgson as "a stark novel of addiction, failed cures, incest, indecent exposure and adultery" Hodgson covered this era in her book In the Arms of Morpheus: The Tragic History of Laudanum, Morphine, and Patent Medicines (2001).
Women At War

!

Posted on April-04-2018 by Admin |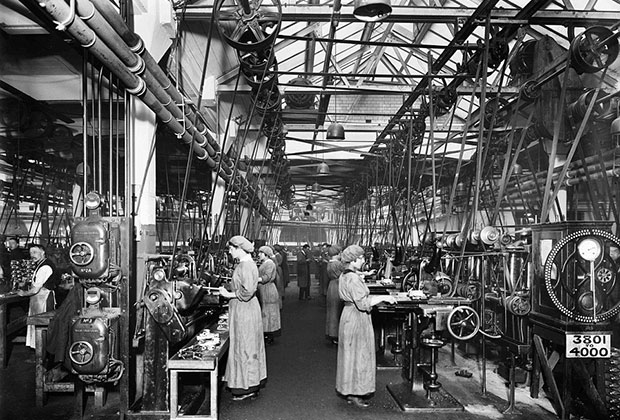 Click on the photo to magnify the image
It's been a while since the last posting due to personal reasons, but I will start off again with a very interesting vintage photograph from 1917, showing women doing heavy machining work at the Birmingham Small Arms (better known as BSA) factory. During WWI (1914-1918), large numbers of women were recruited into jobs vacated by men who had gone to fight in the war.
New jobs were also created as part of the war effort, for example in munitions factories.  The high demand for weapons resulted in the munitions factories becoming the largest single employer of women during 1918. Between 1914 and 1918, an estimated two million women replaced men in employment, resulting in an increase in the proportion of women in total employment from 24 per cent in July 1914 to 37 per cent by November 1918.
Stanley Kubrick Art Class

!

Posted on Jan-15-2018 by Admin |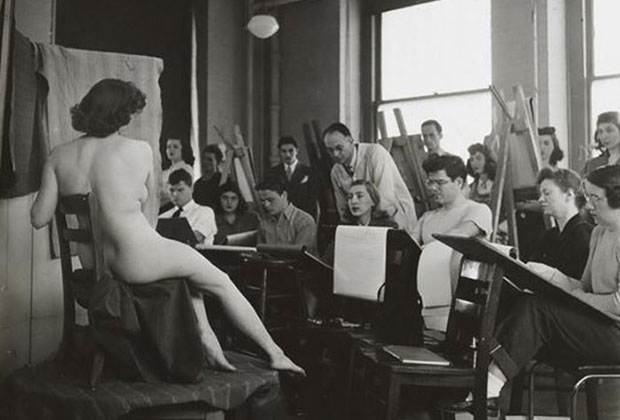 Click on the photo to magnify the image
Stanley Kubrick (July 26, 1928 – March 7, 1999) was an American film director, screenwriter, producer, cinematographer, editor and photographer. He is frequently cited as one of the greatest and most influential directors in cinematic history, but before he was a cinematic trailblazer he, as a teenager, developed an eye for what worked on camera. In this photo Kubrick framed perfectly, students drawing a nude model in an art class at Columbia University in 1948.
Kubrick was raised in the Bronx and attended William Howard Taft High School from 1941 to 1945. Kubrick displayed a keen interest in literature, photography, and film from a young age, and taught himself all aspects of film production and directing after graduating from high school. After working as a photographer for Look magazine in the late 1940s and early 1950s, he began making short films on a shoestring budget, and made his first major Hollywood film, The Killing, for United Artists in 1956. Creative differences arising from his work with the film studios, a dislike of Hollywood, and a growing concern about crime in America prompted Kubrick to move to the United Kingdom in 1961, where he spent most of the remainder of his life and career.
His first British productions were two films with Peter Sellers, Lolita (1962) and Dr. Strangelove (1964). Kubrick's films broke new ground in cinematography. The scientific realism and innovative special effects of 2001: A Space Odyssey (1968) were without precedent in the history of cinema, and the film earned him his only personal Oscar, for Best Visual Effects. He became one of the first directors to make use of a Steadicam for stabilized and fluid tracking shots. While many of Kubrick's films were controversial and initially received mixed reviews upon release—particularly A Clockwork Orange (1971), most were nominated for Oscars, Golden Globes, or BAFTA Awards, and underwent critical re-evaluations. His last film, Eyes Wide Shut, was completed shortly before his death in 1999 at the age of 70.